Ulstom 40 injection (Pantoprazole 40 MG Injection) is a medicine that contains pantoprazole. It is used to treat conditions caused due to excessive acid production in your stomach. Stomach and duodenal ulcers, gastroesophageal reflux disease (GERD), and Zollinger-Ellison syndrome are certain conditions associated with high levels of stomach acid.
Ulstom 40 MG Injection helps in the treatment of active gastric (stomach) or duodenal (small intestine) ulcers with bleeding or severe erosions.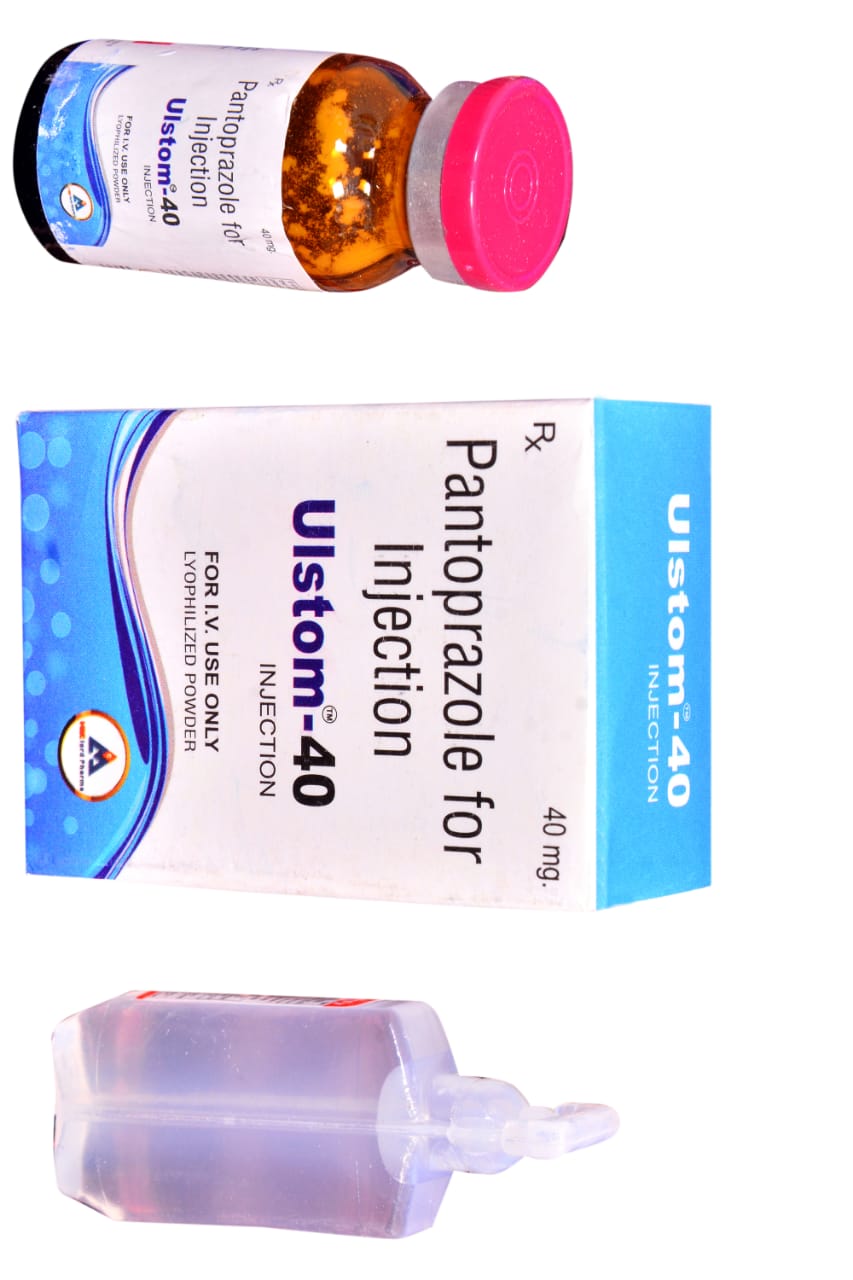 Ulstom 40 MG Injection interferes with the final step of acid release in the stomach. Thus, acidity in the stomach is decreased and the ulcer healing process is fastened. Common side effects of Ulstom 40 MG Injection are headache, pain, redness and swelling at the injection site, diarrhoea, and dizziness. these effects are generally mild and subside with time, consult your doctor if any of these symptoms persist for a long time. Do not take this medicine if you are allergic to it. Ulstom 40 MG Injection is administered into your vein by a health care professional in a hospital or clinic.
Pan 40 MG Injection is recommended for people with oesophagus damage (the tube that carries food from the throat to the stomach) or who are unable to take oral forms of pantoprazole. You should avoid spicy and fatty foods, alcohol and caffeine-containing beverages such as coffee, tea and cola if you have acid-related conditions. Eating a healthy and balanced diet will help you to heal faster. Always try to finish your dinner three hours before heading to bed.
Better Health Care

is Our Mission
Maclord Pharma started its business in 2020. Currently, we produce and market our unique pharmaceutical products across the country.
+91 7904112072 , +91 7092602003
Maclord Pharma,
plot No. 29, 1st Floor,
Sri Devi Garden Main Road,
Vijaya Nagar, Valasaravakkam,
Chennai Tamil Nadu India – 600087